World's Best Graffiti Removal Products are now readily available to cities and professionals contracting teams in Japan via Waverock Corporation, Waverock Inc. is currently supplying several municipalities in Tokyo, Japan and has been granted special permission to clean certain areas and ensure a graffiti-free environment as Tokyo prepares to host the 2020 Olympic Games.

In order to obtain further training and familiarize themselves with the World's Best Graffiti Removal products and techniques Waverock representative Manabu Muto visited Urban Restoration Group US INC. this week in Los Angeles.

World'sBest Graffiti Removal Training included a ride along with the City ofGlendale Neighborhood Services Graffiti program specialist, where theywere able to see all types of graffiti vandalism quickly andprofessionally removed throughout the Glendale community.
Waverock Japan is offering the URG US Inc. complete product offeringincluding world's Best Graffiti removal products and equipment inJapan. The latest Graffiti Removal Training materials, Worlds BestGraffiti Removal Catalogs and support have all been painstakingly andprofessionally translated in Japanese.


For further inquiries contact sales@graffitiremovalinc.com or forJapan contact, contact Waverock Inc. directly here:

まずはお電話またはメールフォームでご相談ください。
0428-24-1873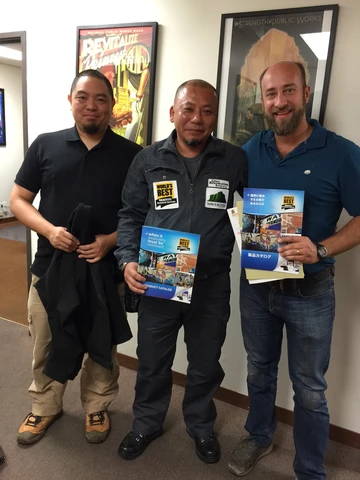 World's Best Graffiti Removers HQ Los Angeles CA: Waverock representatives from Tokyo Japan – Adam Yamamoto and Manabu Muto with Adam Kopcho Director US Operations Urban Restoration Group US INC.